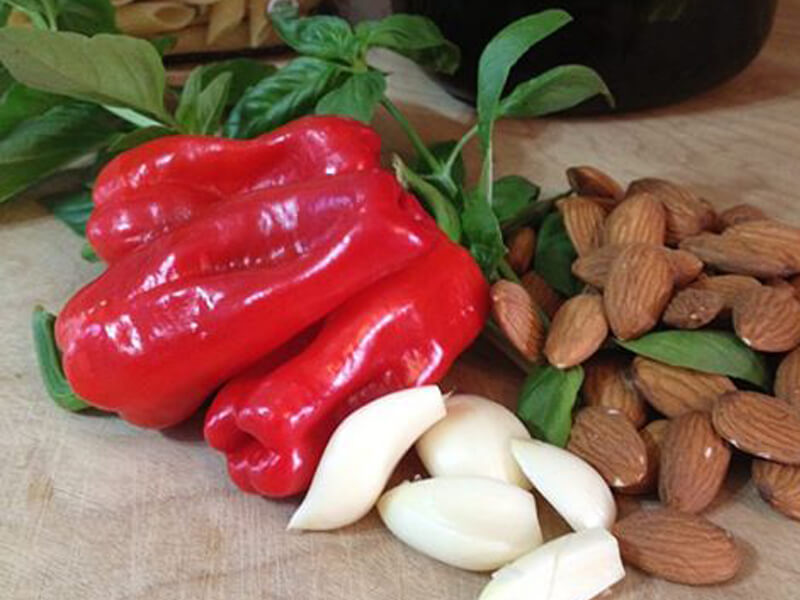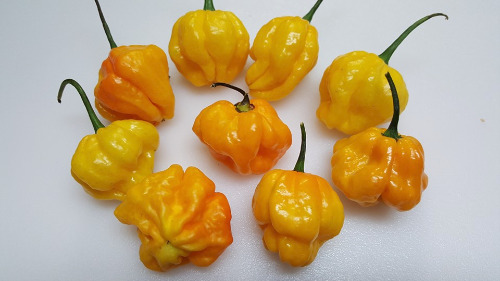 God and destiny

Our chile pepper story
I won't claim that if you start growing and eating chile peppers your life will change, but mine certainly did. When God created chiles, He made them unique.
It is amazing how a small pod can hold so much heat, not to mention that the nutritional profile of a chile surpasses many other fruits and vegetables. Each chile variety possesses it's own heat level, as well as a unique flavor, and the beautiful colors of the chile can rival an exotic flower.
My chile story started in 2003, when some co-workers, Rudy Moreno and Marcos Anguiano, began sharing their food with me. This included homemade salsas and sauces, which began an odyssey for my taste buds. Since I liked to cook, I asked questions and started making my own salsa. I experimented with various chiles, and eventually added habaneros to my recipe.
My inspiration grew as I pleased the taste buds of my Mexican friends. One day Rudy paid me the ultimate compliment, "If you make extra, I will buy it from you." I made more than enough for Rudy and began selling salsa to my friends from work and church.
By that winter it was hard to find good habaneros, so I opted to grow them myself. The seeds were not available locally, so I went online where the world of chiles opened up to me. I stayed up 'till 3AM that first night, looking at site after site. I could not believe how many varieties of habaneros there were… so many colors and shapes. I was like a kid in a candy store. After three more nights of searching and a missed day at work, I emerged with 20 varieties of seeds for my first chile garden in the spring of 2004. I used drip irrigation and started small with only 100 plants. Some plants failed, while others improved the flavor of my salsa.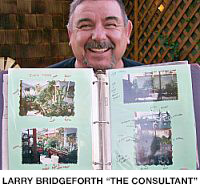 The following year I did better, but bought most of my plants online. It was more costly, but I did produce more chiles. In the late summer of 2005 I wandered into one of our church's youth centers called Youth Venture where my friend was volunteering. As usual, I brought chips and salsa with me. I noticed that some of the kids were eating like it was their only meal of the day. This touched my heart, so I began showing up every Wednesday with meals for them and made spicy dishes with my chiles whenever I could. The kids loved them. They especially requested my spicy chicken soup made with habaneros.
By the end of the year I found myself at a second youth center in El Cajon, where my daughter, Michelle, was volunteering. Now I was feeding kids twice a week. In order to fund these dinners, I began catering part time and occasionally sold my chiles and salsa at local farmers' markets. In February of 2006, I sent some of the kids to local college athletic events. Most of them came from single parent families and had never been to a sporting event.
In the summer of 2006 I began growing primarily Red Savina and Chocolate Habaneros, along with some Scotch Bonnet and Congo Yellow. By the end of summer I started visiting a third youth center, also in El Cajon. Now I was feeding kids at three centers a week and sending them in groups to San Diego State athletic events. By the end of 2006, my little journey with chiles had given me the resources to provide over 800 meals to youth and send over 400 of them to events!
In the winter of 2007, my close friend, Larry Bridgeforth, introduced me to hydroponic gardening, which was intimidating to say the least. Was this method feasible for me? What if I failed and lost all my plants? In the spring of the following year, I planted 120 plants in my first NFT Hydroponic system purchased from IGS Hydroponics in Mira Mesa. An NFT system consists of tubes that hold the plant roots in a constant stream of water that contains nutrients. Larry was very busy raising five boys, so with the aid of the web and many phone calls I got the system up and running on my own. I planted 30 Bhut Jolokia, 40 Red Savina, 40 Chocolate Habaneros, and some assorted South American Ajis.
By July of 2007 I had a jungle. The roots had even pushed some of the plants up out of the tubes. "Too many" peppers caused several of the plants to fall over and even break. I started selling the chiles in various web ads, but they were not moving fast enough. Soon, a well-known restaurant in Chicago contacted me and bought almost everything I had. They eventually requested that I become their regular supplier. They host a "Hot as a Mother" dinner every year where my chiles are a big hit.
In 2008, I planted Bhut Jolokia, Red Savina and Chocolate Habanero. I purchased better supplies from City Farmer's Nursery in San Diego. It was Bill from City Farmer's who gave me some guidance that first year. I expect to have at least 30% more chiles this year than last. I cannot fit between the two-foot rows, which means crawling under the system to harvest. Thank goodness the tubes are three feet above ground.
As far as I know, this past year (2007) I was one of the few people growing the world's hottest chiles in an NFT Hydroponic System. My vision is to expand the business, find more restaurants, product makers and produce buyers which will help me support the youth in East County, San Diego. I am glad that God made chiles because they have blessed my life – and the lives of others – in such unexpected ways.
In 2012 we will be adding some rare and diverse hot chilies. Some of these have never been sold before in the U.S.. A few of them you may have heard of like the Sunrise Scorpion or the Black Naga Morich. All can be seen on my chiles pages. Seeds are available for some now in my store! Thanks for taking the time to visit my site. Please take a look at the Youth pages if you are local and also view the pictures of the Youth Venture children who are the main inspiration for what I do. Hopefully they will inspire you as well!